Engineered timber product Accoya is well known for its durability, delivering a reduction in shrinkage and swelling of at least 75%. This makes it an obvious construction choice for structures that are exposed to heavy rain and other extreme weather conditions. But Accoya can also be a standout aesthetic feature in homes and gardens across the UK.
One great example of Accoya being used in an unconventional way hit the public eye almost a year ago, when TV's Grand Designs program featured the renovation of Stuart and Rosie Treasurer's "ugly ducking" dormer bungalow in Merseyside. Around eight cubic metres of the material was used for external and internal cladding, creating a beautiful, unique structure.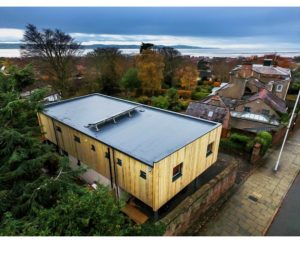 Mr. Treasurer said: "With our home overlooking the Dee Estuary, with wind, rain and salt-water whipping in from the Irish Sea, we also wanted a product that was durable and would weather well. So far, Accoya has delivered excellent results, with a very subtle weathering adding to the individual and distinct character of the building."
He continued, saying "The internal timber acts as a natural contrast to the outside of the building," adds Stuart. "It's surprisingly smooth, and creates an overall effect which makes people want to run their hands over the boards and make a connection with it – showing off Accoya's aesthetic qualities to the full."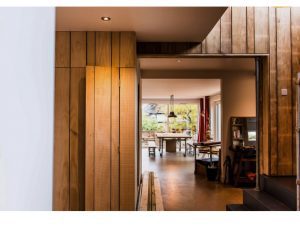 Accoya is manufactured by Accsys Technologies, whose sales director, John Alexander, commented: "Using both raw and fine sawn Accoya boards for individual home renovation projects is a real one-off project for us. But the results speak for themselves, and demonstrate the huge potential of Accoya for bespoke home design, appealing directly to consumers."
Accoya is durable, environmentally sustainable, and very easy to maintain. As the Treasurer's home also demonstrates, it can also be beautiful. The question is how many homes around the UK could be enhanced through the use of Accoya, either as cladding or to create bespoke pieces of garden furniture, timber conservatories, and more?
Quercus is a licensed Accoya distributor, and we're always happy to discuss the timber's use with our clients – if you think it's the right choice for your customers, just get in touch via this website.