ABOUT US
Quercus is a family-run business, and this means that the principles we live by in our personal lives – honesty, helpfulness, integrity and loyalty – are also the principles with which we do business. This is why our clients are more than just business partners: they're friends, and we genuinely want them to be successful.
One of the ways we can help our clients to succeed is by leveraging our passion and knowledge of the timber trade to their advantage. Between us, we have over 100 years of experience in the industry, and we're always eager to share our insight and expertise with the people who need it most.
Everything that we do – whether it's next day delivery, offering the best deals possible, or sharing crucial news from around the industry – is a reflection of the knowledge that, for us to thrive, our clients must too.
THE TIMBER PROCESS
We are passionate about every stage of a timber's journey – from its harvesting in responsibly managed forests, to its eventual transformation into high quality bespoke products. We take great care and consideration when selecting our supply partners. From processing the raw timber, to kiln drying, to the eventual sorting and selection of grades, we ensure we are happy with every stage of the process. This enables us to not only purchase the highest quality products, but also, and most importantly, gives us the confidence that the products we sell meet our customers' expectations.
The last stage of this timber's journey is to our customers. This is key. This is where our high supplier expectations become even more important, ensuring we have the top quality products our customers have come to rely on, understanding the requirements of a job, and selecting the best materials to accomplish it.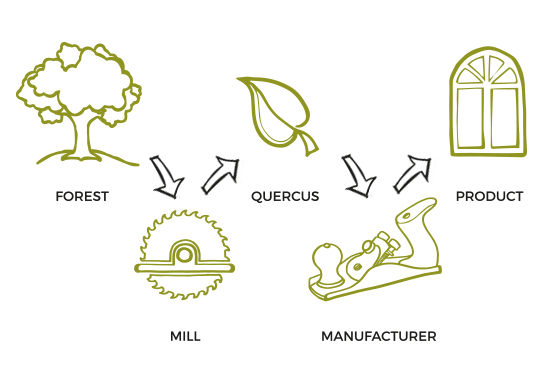 DELIVERY
At Quercus, we pride ourselves on supplying the highest quality products to our customers. But it is also vitally important that we support them with exceptional service. That's why we are committed to the most customer-centric delivery system possible. Using our own fleet of vehicles, we are able to respond quickly to customers' needs and ensure we meet their expectations. We aim to achieve next day delivery on all orders within our delivery range. So far, we have managed an enormous 99% success rate from in-stock items.
The reason we're so committed to this level of service is simple: it makes our customers' lives easier. The nature of the manufacturing industry often demands quick turnaround times on an ad-hoc basis. This is where we can make all the difference to our customers' businesses.