"Timber drove sales for builders' merchants last October – and popular hardwood supplies remain stable"
In October 2018, builders' merchant sales hit their highest since the Builders Merchant Building Index (BMBI) began in 2014. Driving this stellar performance was timber, which saw a 7.6% rise in sales over the first ten months of last year. Particular takeaways from the results are broad popularity amongst timbers, with ash, maple, and walnut returning to popularity in kitchens around the country. And the added news that geopolitical issues weren't damaging supplies of hardwood coming into the country.
For October in isolation, timber and joinery products sold even more impressively than they did for the first ten months of the year. Of all twelve categories tracked by the BMBI, it came top, growing by 10.3% against the same month in the previous year. Against the previous month (September), timber and joinery products did equally well, with sales rising by 10.1%. Overall, sales per day in October (across all twelve BMBI categories) rose by 1.3%. That might not sound like a lot, but it's a major increase, when you remember there were twenty-two trading days last November!
BMBI's expert for timber and panel products, Nigel Cox, said: "The third quarter of 2018 continued to see strong year-on-year growth for timber and panel products reflected in the BMBI statistics, influenced by good weather and strong demand from the construction sector.
Timber outpaced other builders' merchants' products over the first ten months of last year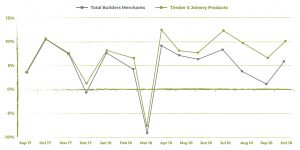 Source: GFK's Builders Merchants Total Category Report July 2015 to October 2018
Cox added that it was good news for hardwood supplies, too, as a number of events worldwide were seemingly not affecting its passage into the country. He said: "Hardwood timber supply over the major species is generally good with stable pricing, although exchange rate fluctuations remain a concern. North American supply is still a concern following the US/China trade war but wood is available."
And in regards to what was fashionable on the market, he noted that "ash, maple and walnut are very much back in vogue in kitchens with good demand. Hardwood decking has performed well this season as a popular alternative to composite decking options. Engineered timber for windows and doors in softwood, red hardwood and European oak is continuing to see good growth, with customers recognising the cost benefits."
Quercus stocks a wide selection of timbers, including all the major species. Give us a call to see how we can help you find the right timber for your project today.